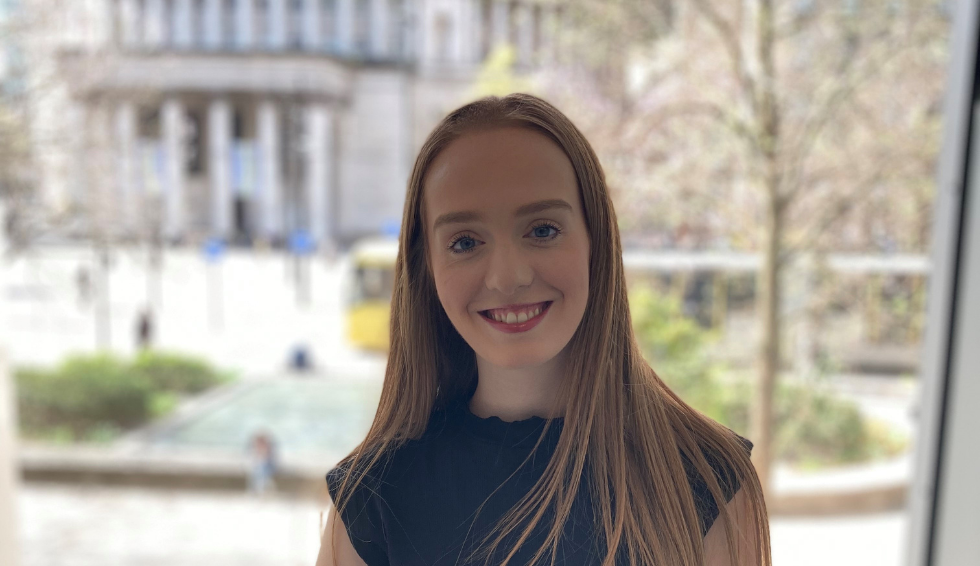 Lauren's story
Audit - Public and Social sector
Lauren, an Audit trainee shares why the Public and Social sector at Mazars stood out to her when applying for opportunities after graduating. Lauren also gives insight into her experience at the firm so far and advice on the application process.

Tell us a little bit about yourself and your background?
I recently graduated from the University of Liverpool with a degree in International Politics. This was always something that interested me, but I knew it wasn't something I could see myself doing as a career. I attended several careers fairs at university and was impressed by the wide variety of opportunities on offer at accountancy firms, this drew my attention to a career in audit.
What stood out to you about Mazars when applying for opportunities?
The first thing that drew me to Mazars was its company culture. From the initial stages of the application process, it was clear that the firm invested a lot in its people and genuinely cared about you as an individual. This set Mazars apart from other accountancy firms and highlighted that they were a primarily people-focused business. As a new graduate entering an industry I had very little experience in, this supportive environment made me feel at ease.
"I was impressed by the wide-ranging opportunities available at Mazars. From professional development and study support to social events and activities on both a team and office-wide level. I sensed from an early point that Mazars was a place I would feel supported and engaged in (and, importantly, have fun in too!)."
It was important to me to join a firm that aligned with my values and wanted to make a positive difference; Mazars consistently demonstrated this throughout the application process. Discussions with current trainees through this process reiterated that everyone felt able to be themselves and have their opinions heard at work, as well as diversity being celebrated across the board. As a young woman entering the workplace for the first time, Mazars stood out as a firm where I could flourish.
What do you enjoy most about working in Audit in the Public and Social sector?
The thing I enjoy most about my role is the variety of clients I work with. Coming from a politics background, I find it rewarding to collaborate with the councils I was once learning about and to now make a valuable contribution to their work.
Alongside councils, I've had the chance to work with several NHS Trusts and charities across the North-West. This has given me a greater appreciation of how public sector organisations work and how taxpayers' money is utilised to deliver value to the public.
Every client brings something new to the job which keeps my role enjoyable as I'm constantly being challenged to work in unfamiliar contexts and broaden my understanding of the sector. It's a great opportunity to network and meet new people with different experiences and knowledge.
What is a 'normal day' like in your role?
A normal day for me would usually be spent working on a particular client to complete the testing required for our audit. I'm in regular contact with the client, either via email or on-site, to obtain and challenge evidence from their systems. I use the information to satisfy the testing requirements and gain assurance that different areas of the financial statements meet our audit assertions.
During my first year, I've primarily been working on areas including expenditure and income to ensure that the disclosures made in the Statement of Accounts give a true and fair view of the financial position of the client.
An important part of my day-to-day role is making contact with seniors/managers on the team to obtain guidance on completing new areas allocated to me. I'm in touch with the team daily to ensure I'm comfortable with what's required of me and to clarify any questions I may have to build my own knowledge.
How would you describe the culture at Mazars?
The culture at Mazars is warm, open and engaging.
"There is a genuine sense that the firm cares about its people and wants every individual to thrive, be accepted and be heard."
Across the office, there's a friendly and welcoming vibe which has made it easy to settle in. It's a sociable workplace, with plenty of opportunities to mix socially across the team/office and get involved in groups or initiatives, such as 'green champions' or International Women's Day celebrations.
The culture is one area that made Mazars stand out from other accountancy firms – while they do value hard work and quality, they also value their people and want everyone to flourish personally and professionally.
What piece of advice would you give to someone who is thinking of applying to Mazars?
If you haven't got a background in accountancy or maths – this could still be the role for you. I had no accounting experience and did a literature-heavy degree so wasn't used to working with numbers or spreadsheets daily, which was an initial worry when applying for the role.
However, this hasn't set me back at all. Mazars recruits people from various backgrounds and the team is made stronger by everyone's unique skills and perspectives. Starting my training, there was no prior knowledge expected of me, and I was supported thoroughly to build my understanding over the first few months. It can seem daunting and is a steep learning curve at first, but if you're open and keen to learn the process is very rewarding.
If you're feeling ready to take the first steps toward your career with Mazars, why not check out our job vacancies here.